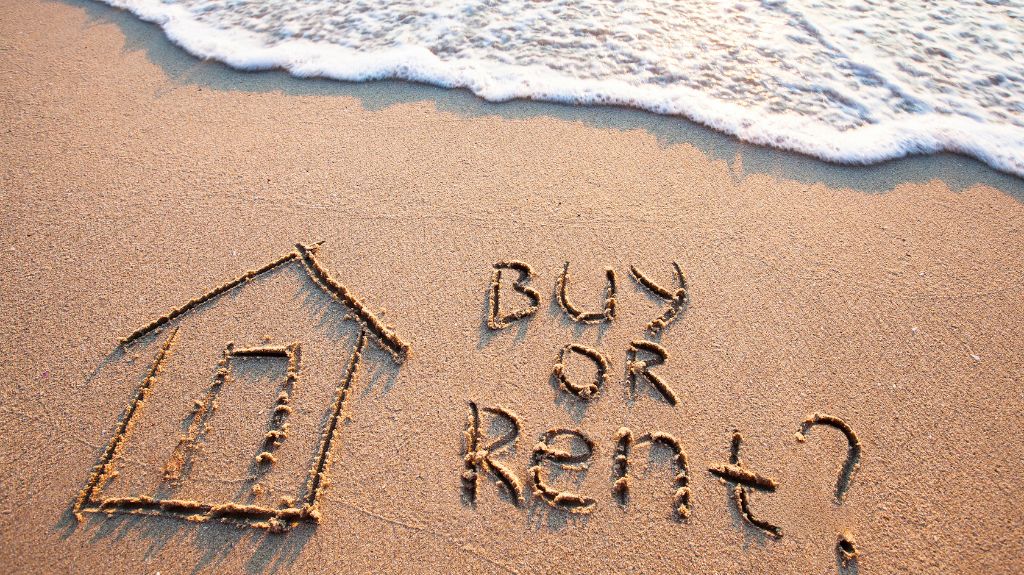 Homeownership is a big part of the American dream. The freedom, community, and financial stability of homeownership are something many people strive for. However, if you're caught in the cycle of renting, it can feel daunting to go through the home-buying process. With talk about a competitive real estate market and high mortgage rates, it may seem like renting is the easier option. Before you rule out homeownership, here are 3 rent vs. own myths debunked to help potential home buyers who are on the fence.
Top 3 Rent Vs Own Myths Debunked
You've likely heard these top 3 rent vs. own myths if you're trying to decide if homeownership or renting is better for you. Here's a breakdown of the myths that may help you determine which option makes the most sense for your current situation.
Myth:
Renting gives you more flexibility than homeownership
One common benefit of renting that is often mentioned is the flexibility that renting provides. If you don't own your home, you can easily pick up and change locations for a job. Being able to pick up and move on a whim can seem alluring, but it's not quite as easy as it sounds in the current renters market. With rent prices rising, renters still need to consider the following:
The cost of renting for your desired location. The rent in some communities is higher than in others, so renters may struggle to find housing within their budget in their chosen community.
Availability of homes. With mortgage rates higher than previously and rent prices going up, more people are hunkering down rather than renting out their homes. When considering whether renting is a flexible option, renters should consider the availability of rental houses in their desired area.
Length of lease options. Not all landlords are willing to do short-term leases, which can constrict the flexibility of renting. It may seem easier to lock in a 6-month lease when relocating for a job, but renters should consider the length of lease options available to them.
Myth:
Taxes and maintenance make homeownership more expensive
It's true that when you purchase a home, there are additional costs to consider, like taxes and potential repairs. While renters can rely on landlords to pay for any repairs and taxes, the responsibility falls on the homeowners when they own. However, by including taxes in the mortgage and investing in good homeowners' insurance and warranties, most of those costs are stable and easy to prepare for.
Homeownership provides more financial stability than leasing because a set living cost can be more manageable. Renters are often severely affected by inflation, with rental prices hikes likely.  Unless you have a rock-solid long-term contract with your landlord, a fixed mortgage is the only way to protect your housing costs and is typically a hedge against inflation. Not to mention, homeownership is an excellent investment that allows you to grow wealth rather than handing your wealth to landlords with no equity in the property in return.
Myth:
Getting situated in a rental home is easier than purchasing a house
You may have been putting off homeownership because you believe getting situated in a rental home is easier than purchasing your own home. There is indeed an investment of time and money when buying a home that includes:
Saving for a down payment

Saving for closing costs

Time spent working with mortgage professionals like real estate agents and mortgage lenders
However, it's important to remember that there are mortgage programs that can help homebuyers with their down payment, and sellers' concessions may help with closing costs.
In contrast, when renting, costs and time constraints still need to be considered. 
Cost of the deposit that often includes the first and last month's rent

Pet deposit or restrictions on having pets

Monthly rental prices can fluctuate with the rental market
Both renting and purchasing a home require money down and time spent searching for the ideal location. Homeownership isn't necessarily more complicated, and with the right mortgage professionals in your corner, you may even find it easier!
Keep Reading: How Buying a Home Can Protect Your Finances During Rising Inflation
About Julie Krumholz from Superior National Bank
For over 35 years, Julie Krumholz has helped homebuyers with different financial backgrounds to make the dream of homeownership a reality. Julie has worked in processing, closing and loan origination, underwriting, QC auditing and has even co-owned a mortgage brokerage firm.
If you are looking for a mortgage lender in Michigan, call Julie from Superior National Bank today at: 586-382-5482 and let her help you navigate through the loan process and answer any questions you may have.