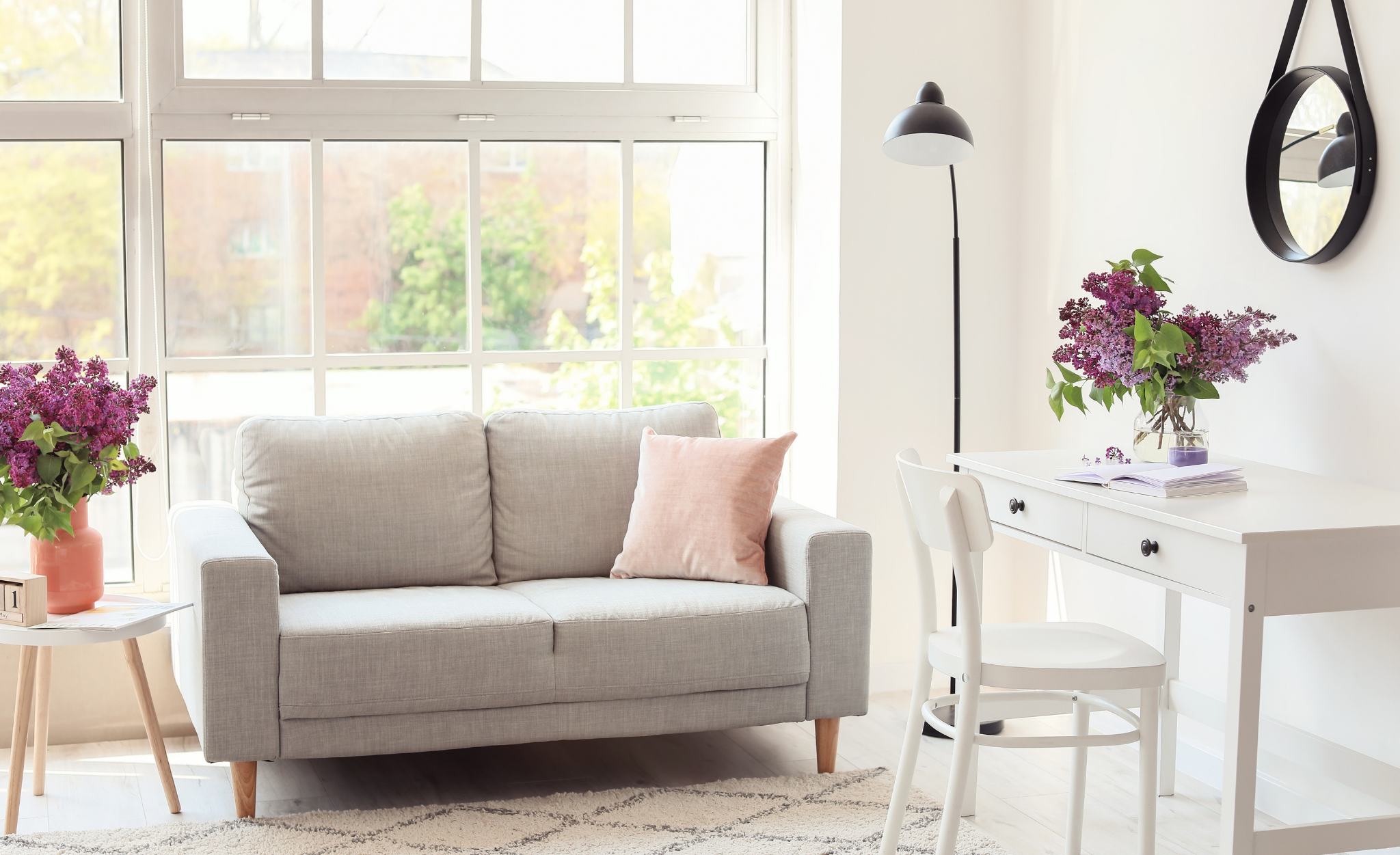 There's something refreshing about cleaning and updating your living space in the spring months.  Whether it's the sunny skies that motivate you or the air of change that a new season brings, spring is the perfect time to make updates.  Those updates don't need to break the bank either. Here are 5 ways to update your living space that even the most frugal homeowner will love.
Play Up The Light
After months of gray skies and snowstorms, playing up natural light in your home is a sure way to refresh things.
Use Mirrors. A strategically placed mirror can not only make a room appear larger, but it can also brighten the room by reflecting natural light.
Change Your Window Treatment. Choose curtains with lighter fabric to allow natural light in.  If you're worried about privacy, pair sheer curtains with blinds underneath.
Use Decorative Pillowcases
Instead of buying new pillows each time your home needs a refresh, consider buying decorative pillowcases.  Decorative pillowcases are often a fraction of the cost of new pillows and are easily applied.  Play with different patterns and textures to bring your new look to life.  When you're ready to change that look, simply store the cases away with your linens.
Add Flowers for a Pop of Color
Fresh flowers add a pop of color to any room but sometimes they aren't in the budget or don't make sense for your lifestyle.  There is a pet-safe and budget-friendly way to bring flowers into your home: faux flowers.
Local craft stores and dollar stores often have a variety of reasonably priced faux flowers to choose from.  Create vibrant bouquets and place them around your home for a pop of color that lasts.
Clean and Take Inventory
During your regular spring cleaning, take inventory of household items. Consider donating items that you no longer need to clear up space.  Once your home is decluttered, you can easily determine what items you'd like to bring in for your spring décor. Make a list of essential décor items you want and avoid overspending on items that aren't on your list.
Visit Garage Sales or Estate Sales
Some of the best bargains of the year come from garage sales or estate sales.  If you're unsure of the best spots for these sales, leverage social media to locate them. Many cities will also host regular block sales, which allows you to make a day of shopping.  Armed with your list of essential décor items, you can easily navigate each garage sale like a budgeting pro.
Once your home is spring ready, the only thing left to do is decide what to do with your savings.  Whether you stash them away for a down payment on a home or use those savings for everyday expenses, one thing is certain.  Your space is sure to be bright and beautiful!
About Michigan Lender, Julie Krumholz
With 35 years of industry experience, Julie Krumholz has worked in nearly all aspects of mortgage banking.
Throughout the years she has worked in processing, closing and loan origination, underwriting, QC auditing and has even co-owned a mortgage brokerage firm.
If you are looking for an experienced Lender in Michigan, call Julie from Superior National Bank today at: 586-382-5482 and let her help you navigate through the loan process and answer any questions you may have.