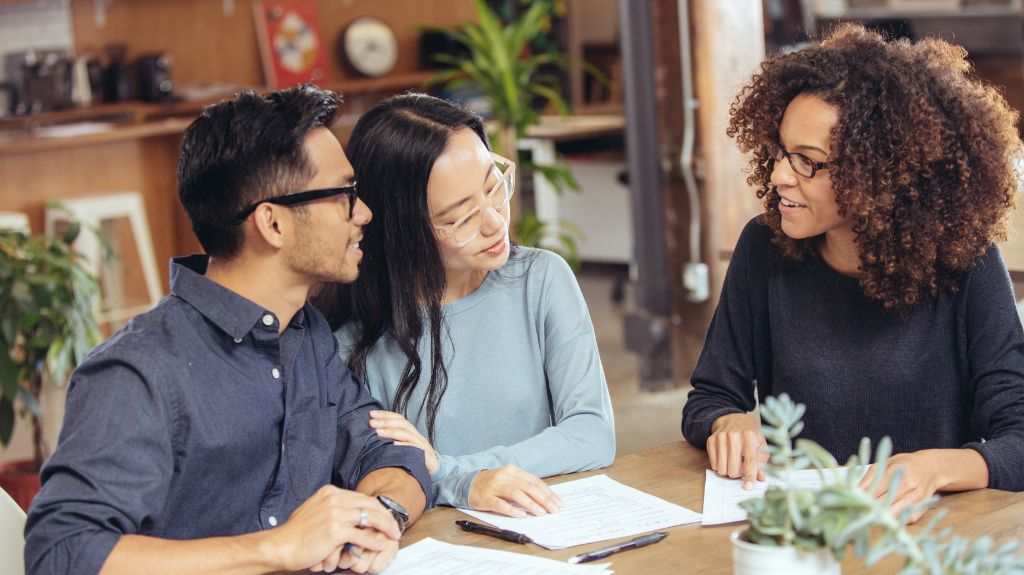 If you're a first-time home buyer navigating the housing market, you may have questions about what to expect. That's especially true if you're budgeting for your down payment or closing costs. But what about your real estate agent whose fighting on your behalf for your dream home? How much does that real estate agent make, and do you pay them or the sellers? It's a great question and one that potential homeowners should know so they're prepared at the closing table. Here's what first-time home buyers can expect at the closing table: from who pays your real estate agent to what your closing costs typically cover.
What is a "Closing Table" and What Can Home Buyers Expect to Happen?
The closing table, or settlement table, is a term that refers to the final stage of the mortgage process. It's where both parties sign the necessary documents and pay the closing costs to finalize the sale. Before this, your real estate agent probably showed you different homes and negotiated with the sellers. Your mortgage lender reviewed the mortgage programs and what financing you qualify for. The closing table is where all those negotiations are finalized on paper, allowing you to walk away as a proud homeowner.
How Do Real Estate Agents Get Paid and Who Pays Them?
Real estate agents are a valuable resource for home buyers and sellers alike. They listen to client's homeownership goals, find listings that meet their criteria, set up times to visit those homes, and negotiate with sellers to reach a deal on a home. Real estate agents are experts in the mortgage process who work hard on your behalf to help you land your dream home. But how do real estate agents get paid and who pays them?
Real estate agents receive a commission that is typically paid by the home seller. That commission generally is subtracted from the proceeds of the sale. Home sellers will generally set the price of their listing with the real estate commission and closing fees in mind. Once the commission is received, the listing agent shares a portion of the commission with the buyer's agent. That means that typically the home buyer is off the hook in terms of the real estate commission.
When Agents Represent Both the Buyer and Seller
A big concern for home buyers is selecting an agent they can trust to represent them effectively. It's rare, but occasionally a real estate agent will represent both the buyer and the seller. This practice is called dual agency. Regarding the real estate commission, the agent would keep the entire commission rather than splitting it because they're doing more work. Home buyers can expect that even with a dual agent, the real estate commission will typically come from the home sellers.
What Home Buyers Can Expect to Pay
Typically, home buyers can expect to pay the fees that fall into closing costs. Those fees may include:
Loan processing
Homeowners Insurance
Title processing fees
Recording of the real estate deed
Taxes or homeowners' association fees (depending on the property)
The party that pays the closing costs typically gets determined during negotiations. The home seller may sometimes cover a portion of those closing costs. However, more often than not, the homebuyer pays the brunt of the cost. On average, the home buyer will spend around 2% to 4% of the home's price on closing costs.
How Your Mortgage Lender Can Help 
If you're worried about covering closing costs or the down payment for your home, your lender may be able to point you in the direction of a mortgage program that offers assistance. For example, the MSHDA program can provide $7,500 in down payment assistance and up to $10,000 for specific zip codes for those who qualify. Typically, that assistance can go towards the down payment, closing costs, and escrow items. The best way to determine what mortgage program makes the best sense for your homebuying needs is to speak to your trusted mortgage lender.
Experienced Mortgage Lender Michigan Trusts, Julie Krumholz
Julie Krumholz has taught home buyers what to expect and helped them navigate the home buying process for over 35 years. Her experience in nearly every facet of the mortgage industry, from processing, closing, loan origination, underwriting, QC auditing, and even co-owning a mortgage brokerage firm, has made her a valuable resource for home buyers. Julie is an expert in untangling details of what to expect when purchasing a home for first-time homebuyers and making the dream of homeownership a reality.
To learn more about which programs make the most sense for you and your family, call Julie at 586-382-5482!