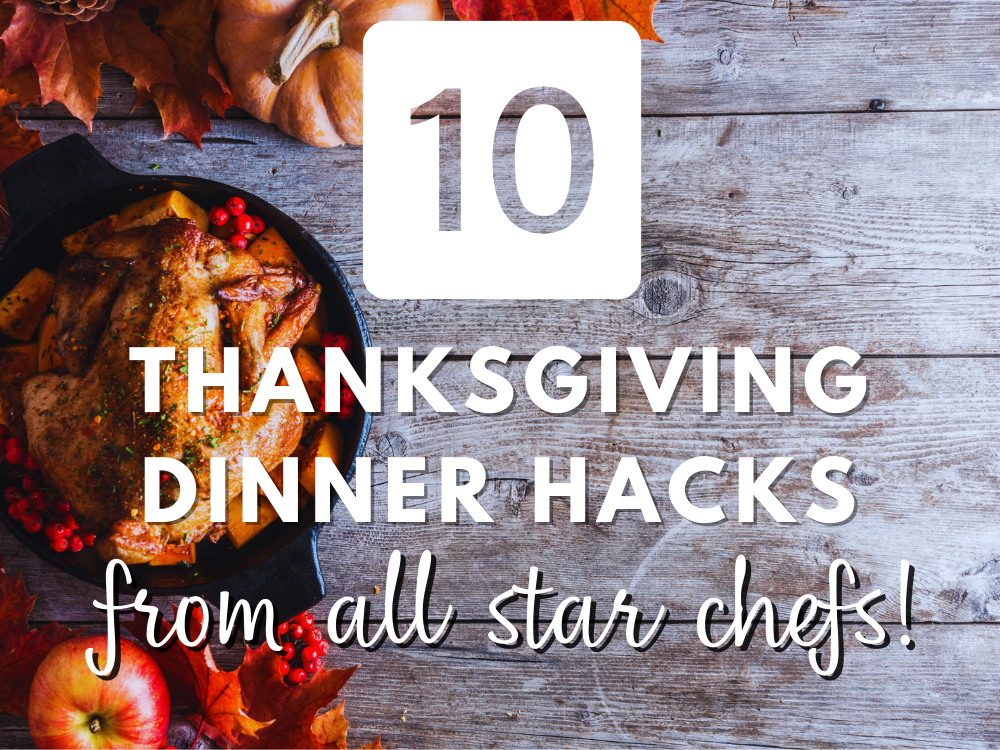 If you're hosting Thanksgiving this year, chances are you've already planned your menu. But here are some cooking tips from celebrity chefs that will only enhance your Thanksgiving feast.
1. Crispy Turkey Tip
This year you'll be thanking celebrity chef Geoffrey Zakarian for the crispiest turkey skin you've ever cooked. According to George, the best thing is to leave the turkey uncovered int he fridge the night before Thanksgiving. This allows the skin to dry out, which makes for crispier skin when it's cooked. Zakarian also recommends removing the wishbone from the turkey before cooking if you find it tricky to carve the breast meat.
2. No More Room in the Fridge? Brine your Turkey in a Cooler
Brining a turkey prior to cooking it is great alternative to basting it while it cooks. Brining locks in moisture and prevents the dreaded turkey dry-out! But it's also a practical option for storage if your fridge is full. According to Sunny Anderson, "If you can't find a brining bag and/or your fridge is not large enough to fit the whole turkey, just brine it in a cooler. Just be sure to replenish the cooler with ice as it melts, making sure to keep the turkey at or below 40 degrees."
3. Make a DIY Roasting Rack with Aluminum Foil
Ryan Scott says all you need is a roll of aluminum foil for a roasting rack: "Take a large piece of heavy-duty foil, crunch it into a long tube and press it into a ring with about the diameter of two fists. This lets hot air circulate around the bird for a faster and more even roast. It takes less than a minute to construct, and could save major minutes on turkey day!"
4. Go for the Gold with Mashed Potatoes
Chef Michael Chernow insists it all starts with your choice of potatoes. Opt for Yukon Golds which, according to Michael, have a more naturally creamy consistency than other potatoes. You will then want to use a ricer, rather than a masher for the ultimate, smooth and creamy mash.
5. The Best way to Thicken Gravy? It's not flour!
Instead of thickening your gravy with flour, Chef Bryan Voltaggio advises using tapioca starch because it gives gravy a nice consistency — not too thick or thin and not gelatinous — plus it's gluten-free!
6. Use a Cooling Rack to Make Lattice Tops as Easy as Pie
Instead of making individual freehand pastry strips for a lattice-top pie, try Jocelyn Delk Adams' top-tip: Press a cooling rack into a sheet of rolled out pie dough; then use a pizza cutter to cut along the indentations for even strips.
7. Rest Your Turkey on Potatoes, Instead of a Roasting Rack
A layer of potatoes makes a natural and easy roasting rack for you turkey. Chef Alex Guarnaschelli prefers to do it this way, stating "The potatoes will get a wonderful flavor from the turkey drippings, and you'll save oven space."
8. Spread Mayo Under the Turkey's Skin to Get it Crispy
Roxanne Spruance has an unusual tip for achieving crispy turkey skin. Instead of rubbing seasoned butter under the skin, reach for the mayo instead. She mixes mayonnaise with lemon and herbs, roasted garlic or even bacon, then pipes it between the skin and meat. This adds flavor, locks in moisture and helps to crisp the skin, she says.
9. Use a Thermos for Gravy
Chef Ryan Scott says it's his way to prevent serving his guests cold gravy or having to run back and forth to the stove to warm it back up. A thermos will keep your gravy warm for hours.
10. Make a Cranberry Sauce "Brûlée" in the Toaster
For a fun twist on cranberry sauce, chef Andrew Carmellini says to "brûlée" it in your toaster oven: Spoon sauce into a ramekin, add sugar, orange and spices, then warm it in the oven.
More Thanksgiving Ideas: Single-Serve Dishes Perfect for Your Thanksgiving Gathering
About Michigan Mortgage Lender, Julie Krumholz
Julie Krumholz is has been helping homebuyers in Oakland County and throughout Michigan for over 30 years. On a personal level, you will find her to be friendly, straightforward, honest and extremely dedicated to helping her clients.
f you are looking for a Mortgage expert in Michigan that you can rely on call: 586-382-5482