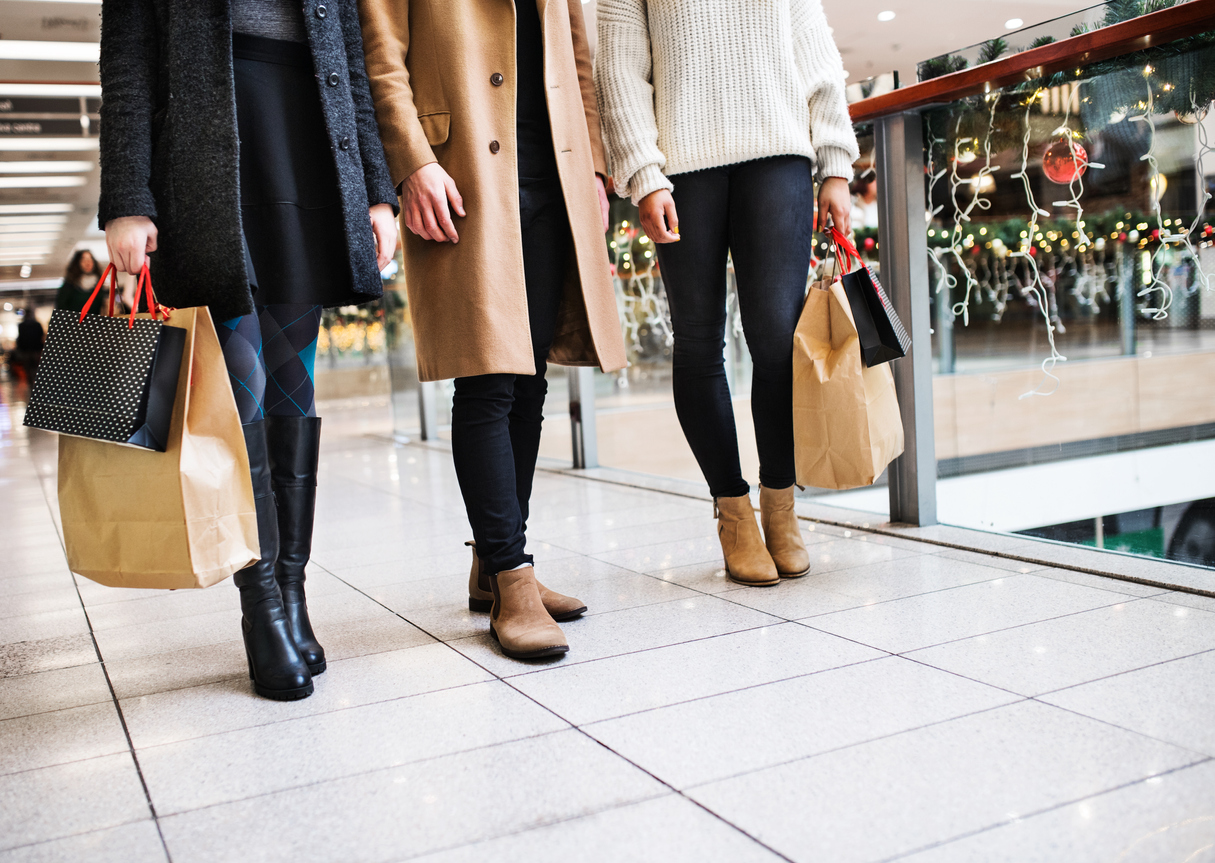 This weekend kicks off the busiest retail season of the year and shopping malls will be filled with people seeking sales. But shoppers are not the only ones looking for a great deal.  Many criminals see this time of year as an opportunity to move through big crowds of distracted people to pickpocket or steal shopping bags. And with the increase of holiday online purchases, cyber criminals think this is the most wonderful time of the year to steal financial or personal information. Whether you're an online shopper or you will be hitting the malls, here are some tips for staying safe during the holidays.
Travel Lightly
Only take credit cards that you plan on using, and if possible, keep the number of cards to one or two.  Also, credit cards are somewhat safer than debit cards. If someone steals your debit card, they can potentially drain your entire bank account and you will be left without funds until the situation is resolved.
Women should leave their purses at home and instead, keep a small wallet concealed in their pocket.
Practice Parking Lot Safety
If possible, park near the door or use valet. This is especially true at night. In fact, try to get all shopping done in the daylight. Remember criminals are always looking for an opportunity, and being able to hide at night makes crime much easier for them. If you must shop at night, do not travel alone.
Keep your keys in hand with your finger over the panic button. In case you are approached, the noise will often scare off a predator or at least alarm others that you are in need of help.
Also, once you load your bags and are inside your vehicle, it's time to get going. Do not sit idle reviewing receipts or checking social media accounts.
Awareness at ATMs
ATMs are another place to always be careful of robberies as well as cyber crime. Never go to the ATM at night, especially if it is located on the outside of the building.
Try to use bank ATMs and avoid using stand alone, third-party ATMs as cyber criminals are more likely to target these machines for card skimming.
Beware of Fake Shopping Apps
Almost every retailer has an app nowadays where you can track loyalty points or clip digital coupons etc. And every new app is seen as another opportunity for criminals to take advantage of. One way hackers access personal information is to duplicate an app, making it almost identical to the official one, only to capture your credit card, banking passwords or other information. So always verify the app is legit before installing.
Verify Retailer Emails are Authentic
Retailers are sending out a ton of emails during the holiday season and it's not unusual to receive email notifications for sales or links to coupons. But be careful before clicking on any links. Similar to how hackers duplicate apps, they can create websites and email branding that is almost identical to the retailer.
Make sure the website uses https and not http. Check the address bar. Does it look familiar or is it a strange address? If the address does not match the retailer or if it uses a link shortening app like bitly, don't click on the link and delete the email.
Utilize Credit Monitoring Services
You might want to invest in a credit monitoring service during the holiday season or even all year long.  A monitoring service can keep track of all activity so if something does happen you can repair is as soon as possible and prevent any further damage.
About Michigan Mortgage Lender, Julie Krumholz
Julie Krumholz is has been helping homebuyers in Oakland County and throughout Michigan for over 30 years. On a personal level, you will find her to be friendly, straightforward, honest and extremely dedicated to helping her clients.
If you are looking for a Mortgage expert in Michigan that you can rely on call: 586-382-5482