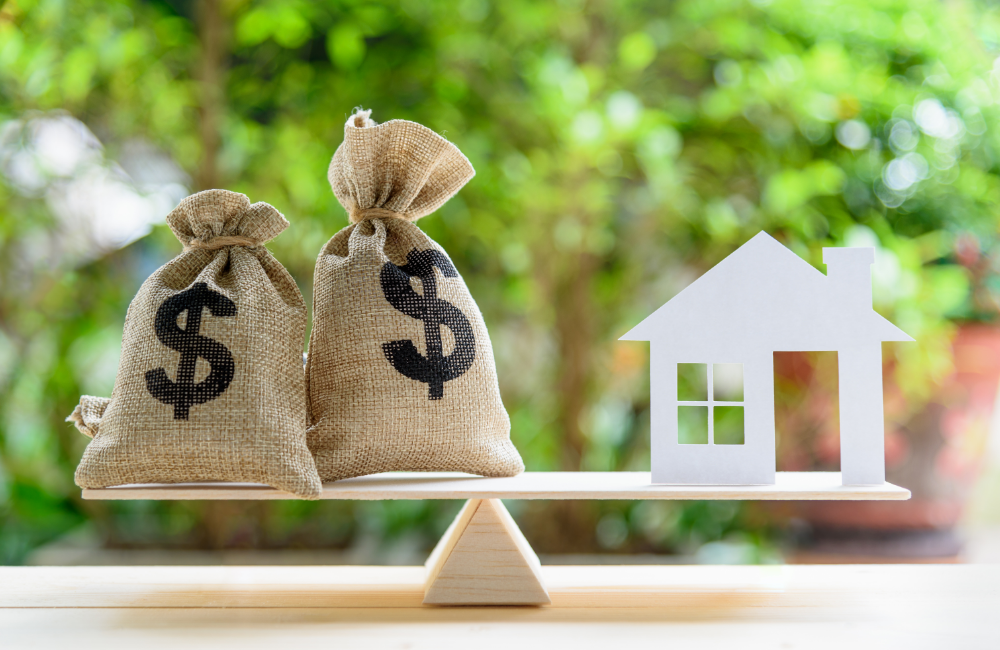 Will Home Prices Fall in Response to Higher Mortgage Rates?
After the unprecedented growth in the housing market of recent months, every potential homebuyer will be desperately trying to predict the market's next move.  Plus with interest rates now rising pretty sharply, the situation becomes even more volatile.  Rising rates usually lead to a drop in housing value…so, what's the prediction from market experts?
Most believe that rising rates won't actually lead to a drop in home prices because there are still high numbers of buyers competing for homes due to a severe housing shortage. Unless an influx of homes hits the market, prices will remain high and rising.
However, what we could see instead, is that the pace of growth could slow down, according to some real estate experts.  George Ratiu, manager of economic research at Realtor.com, believes prices will continue to rise, but will slow to single digits instead of the 15% annual rise seen last spring.
"With higher rates, there will be fewer buyers who can qualify for a mortgage this year," says Ratiu. "This is going to slow down demand and take pressure off fast-rising prices. The buying and selling process will begin to look more normal. We can expect to see less competition and more price reductions. Bidding wars are going to be behind us."
However, according to Freddie Mac's Len Kiefer, it could take a few months for prices to sort themselves out in response to the higher rates.  His prediction is that rates will remain highly changeable for the foreseeable future.
"While I expect higher rates will cool demand a bit, we expect house price growth to stay pretty robust in the first part of the year," he says.
Why did interest rates go up—and will they go down again?
You may have seen reports in the news lately about the rate of inflation.  This is primarily the cause behind higher mortgage rates.
Inflation reached 7% last month—its fastest rise since 1982— and indicates a general rise in living costs including groceries, consumer purchases, rent, energy bills and just about everything else you spend your cash on.
Unfortunately for homebuyers, lending rates tend to move in tandem with inflation.  This is because while the cost of living is going up, so is the cost of doing business: Lenders saddled with higher premises rents, energy bills, and labor costs are going to pass that on to customers.
"If inflation continues to grow at the current pace, rates will move up even faster in the following months," says Nadia Evangelou, a senior economist and the director of forecasting at the National Association of Realtor. But it's not doom and gloom; the government has agencies and plans in place to limit the impact of financial unpredictability on the population.  For example; the Federal Reserve is taking steps to curb inflation, which could keep rates at least somewhat in check.
While homebuyers may be feeling somewhat discouraged right now, real estate experts are quick to remind buyers that, in historical terms, rates are still relatively low. In the early 1980s, rates hit around 18%, we started the millennium with rates of around 8%.  They hovered in the mid-4% range in 2018 and bounced around in the 5% and 6% range in the last couple of years.
"Yes, it's a big jump," says Ratiu. "But rates have been hovering near historic lows for over a year."
Will homebuyers be discouraged by these new mortgage rates?
The reality is that there are some potential buyers who will be priced out by the higher rates as they will no longer qualify for a mortgage.  However, in the wider market, demand is still expected to be high.
Borrowers may feel put out by the increases, but the alternative is to wait out both the rising market and inflation which could take years.
Mike Villano, the national sales director of Veterans Lending Group reports that they haven't seen buyers making any big changes as yet.
"If rates do creep up into the mid-4% or even 5%, people will either have to spend less or they'll go into cheaper areas," he says.
Conversely, the rise in rates could lead to a short-term burst in interest as those who were thinking of purchasing a home later in the year want to close before rates go up even higher.
With rising real estate value and rates, owning a home, especially with a fixed rate mortgage is still more affordable (and stable) than renting in many parts of the country. Nationally, the monthly mortgage payment on a median-priced home is $1,260—compared with the typical rent of $1,540, according to NAR. And rents have been rising rapidly over the past year.
Additionally, the housing supply has long been struggling to keep up with demand.  Rising populations and low-levels of construction means that for the foreseeable future, there will be more potential homebuyers than available homes.
About Michigan Lender, Julie Krumholz
Julie Krumholz has been helping Michigan homebuyers for over 30 years and has several loan programs available for various incomes and financial situations. She brings a wealth of experience to her clients and nothing makes her happier than seeing the face of a happy and excited customer at the closing table.
If you are looking for a mortgage lender in Michigan, call Julie from Superior National Bank today at: 586-382-5482 and let her help you navigate through the loan process and answer any questions you may have.