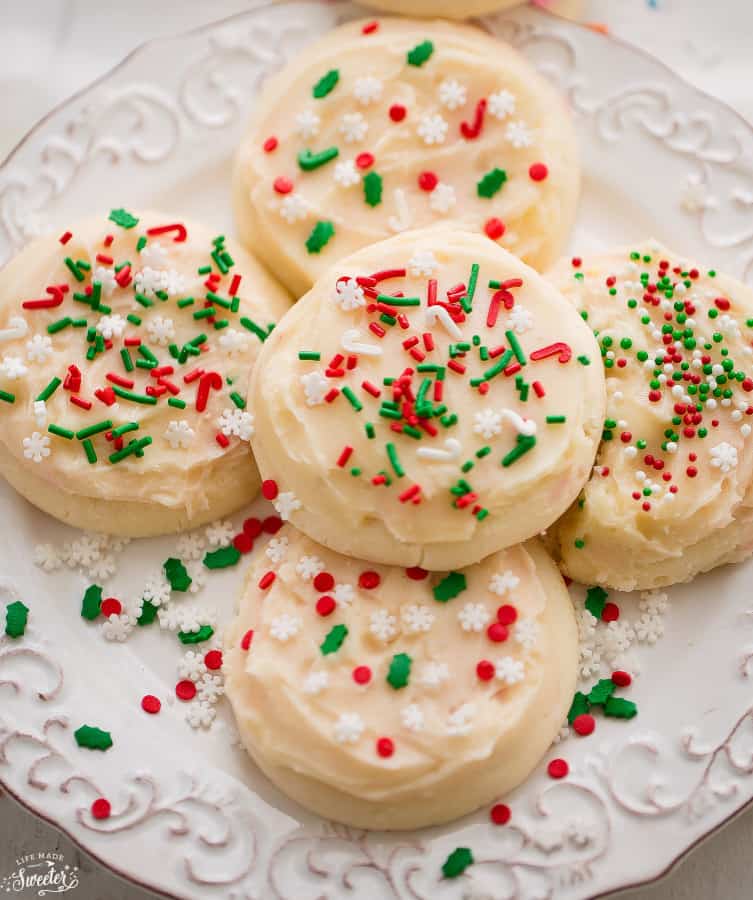 These eggnog cookies literally melt in your mouth. They are so easy and require no chilling of dough, making it a perfect treat to bring to a last minute holiday gathering.
View the full recipe on Life Made Sweeter
Ingredients:
1 cup + 2 Tablespoons all-purpose flour measured correctly (spoon and sweetp/level method)
1 teaspoon baking powder
1/2 teaspoon ground cinnamon
1/4 teaspoon ground nutmeg
1/4 teaspoon salt
1/3 cup unsalted butter softened at room temperature
1/4 cup granulated sugar
1/4 cup light-brown sugar packed
1 egg yolk room temperature
1 teaspoon pure vanilla extract
1/2 teaspoon rum extract optional
1/4 cup eggnog
Eggnog Frosting:
1/4 cup butter room temperature
1-1/2 – 2 cups powdered sugar
1-2 Tablespoons eggnog
1/4 teaspoon rum extract optional
1/4 teaspoon ground cinnamon optional
pinch nutmeg optional
Instructions
1. Preheat oven to 350 F. Line two large baking sheets with parchment paper or a silicone mat. Set aside.
2. In a large bowl, whisk together the flour, baking powder, cinnamon, nutmeg, and salt. Set aside.
3. Using a hand mixer or a stand mixer, cream butter and sugars together for about 3 minutes, until light and fluffy. Beat in egg yolk, vanilla, rum extract and eggnog, until combined.
4. Turn mixer to low and slowly add the dry ingredients, until just combined. Scoop about 1 1/2 tablespoonful and drop onto prepared baking sheets 2-inches apart. Place one baking sheet in the fridge to chill while you bake the other.
5.Bake one sheet at a time in preheated oven for 10 – 12 minutes. Remove baking sheet from oven and allow cookies to cool on baking sheet for 5 minutes then transfer to a wire rack to cool completely. The cookies will continue to cook while cooling. Bake remaining cookies. Once cooled, spread with frosting and top with festive sprinkles, if desired.
To Make the Frosting:
1. Using a stand mixer or a hand mixer, cream butter for about 3 minutes, until light and fluffy. Slowly add powdered sugar and beat until combined. Add rum extract (if using) and eggnog, one tablespoon at a time until desired consistency or flavor is reached.
2. Taste and add cinnamon, nutmeg, and rum extract, if desired. Beat for an additional two minutes smooth. Frost cooled cookies and add sprinkles if desired.