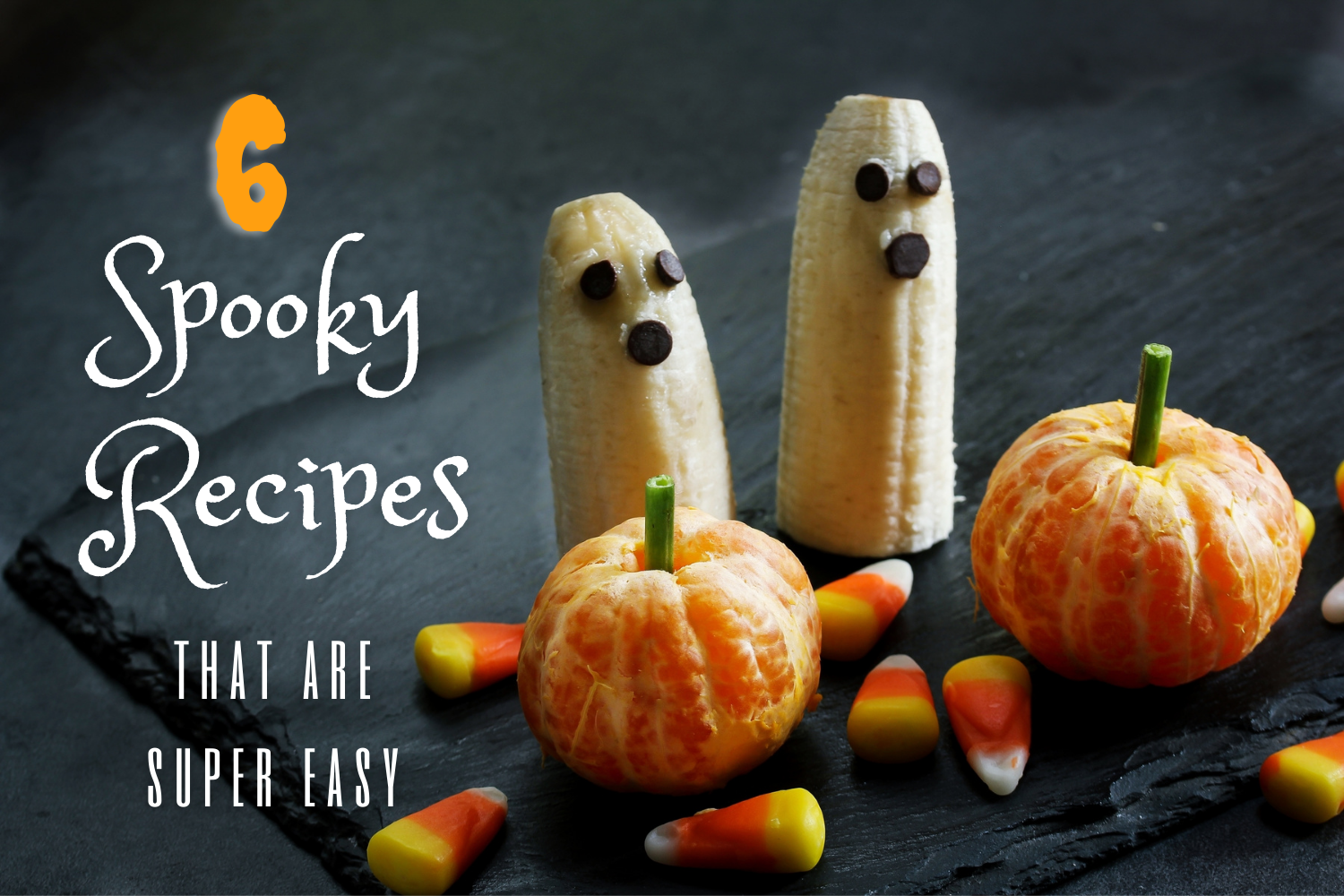 Halloween is on the way and these days the spookiness is almost secondary to what treats you're serving up!  If you're hosting or attending a Halloween party, people of any age will enjoy these unique and clever Halloween recipes.  Plus they're all quick and easy to make. Let spooky season begin!
French Bread Pizza Mummies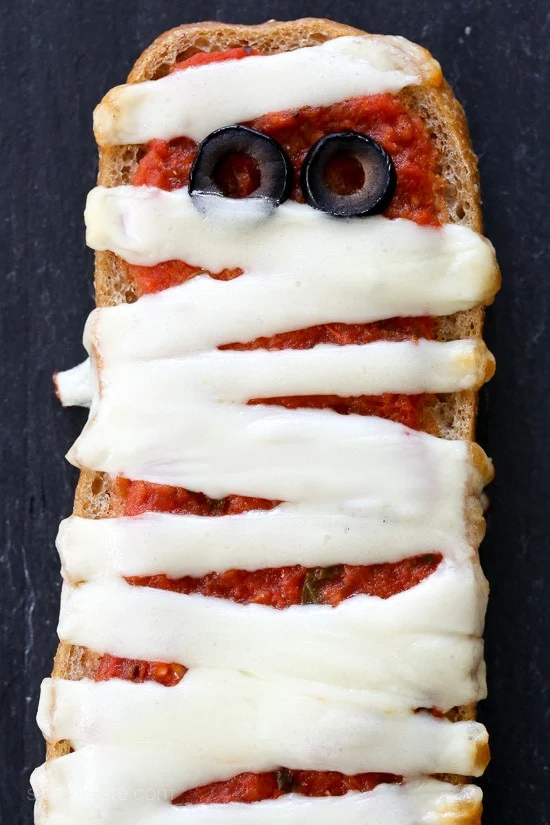 All you need for these mummies are:
French baguette(s)
Marinara sauce
Black olives, sliced
Mozzarella cheese
Cut your baguette in half lengthways, spread with marinara sauce before laying across slices of mozzarella to look like bandages.  Add a couple of olive-slice eyes and bake in the oven at 425°F until the cheese is bubbling & melted (usually around 8 mins).
Halloween Harvest Chex Mix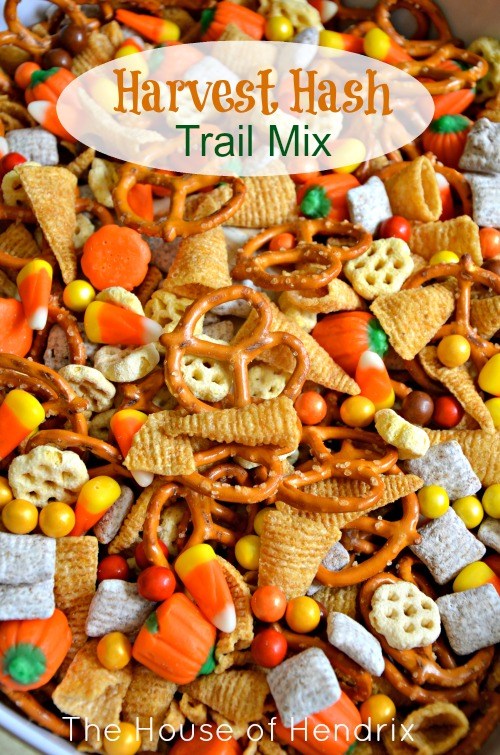 A delicious combination of sweet, salty and crunchy – this Halloween Chex mix is as tasty as it looks!
You will need:
Rice Chex cereal (1 box)
Bugles (1 bag)
Pretzels (4 cups)
Candy Corn (1 heaped cup)
Candy Corn pumpkins (1 heaped cup)
Reece's Pieces (1 bag)
For the sauce:
Melted butter (3/4 cup)
Brown sugar (3/4 cup)
Vanilla extract (2 tablespoons)
In a very large bowl combine all the dry ingredients (not the candy corn or Reece's pieces)before adding the mixed sauce and tossing it all together until it's evenly coated.  Spread in thing layers across baking sheets and bake for 45 mins at 275°F, stirring every 15 mins.
Allow the mix to cool before adding in the candy ingredients.
Spooky Spinach Dip with a Bread Bowl Cauldron
For the dip you will need:
Sour cream (1 cup)
Mayonnaise (1/2 cup)
1 pack of frozen chopped spinach
Chopped scallions (1/2 cup
Shredded carrots (1/4 cup)
Dried basil, garlic powder, black pepper salt to season
For serving:
1 pack of cream cheese
1 round pumpernickel loaf
2 refrigerated bread sticks (from an 11oz can)
Black and green icing color
Add all the dip ingredients into one bowl together & combine well.  Add green food coloring if desired.  Leave for at least 2 hours in the refrigerator before serving.
For the bread cauldron unroll 2 breadsticks from the package & twist into a handle shape.  Insert a toothpick into each end to hold its shape before baking at 350°F.  Once these have cooled completely paint them with black food coloring.
Cut the top off the pumpernickel loaf & hollow it out & attach the handle to the top. Mix black food coloring into the cream cheese before piping it around the top of the bread bowl.  Transfer the dip into the bowl right before serving and provide crackers or extra bread sticks for dipping.
Clementine Pumpkins
From Health Home and Happiness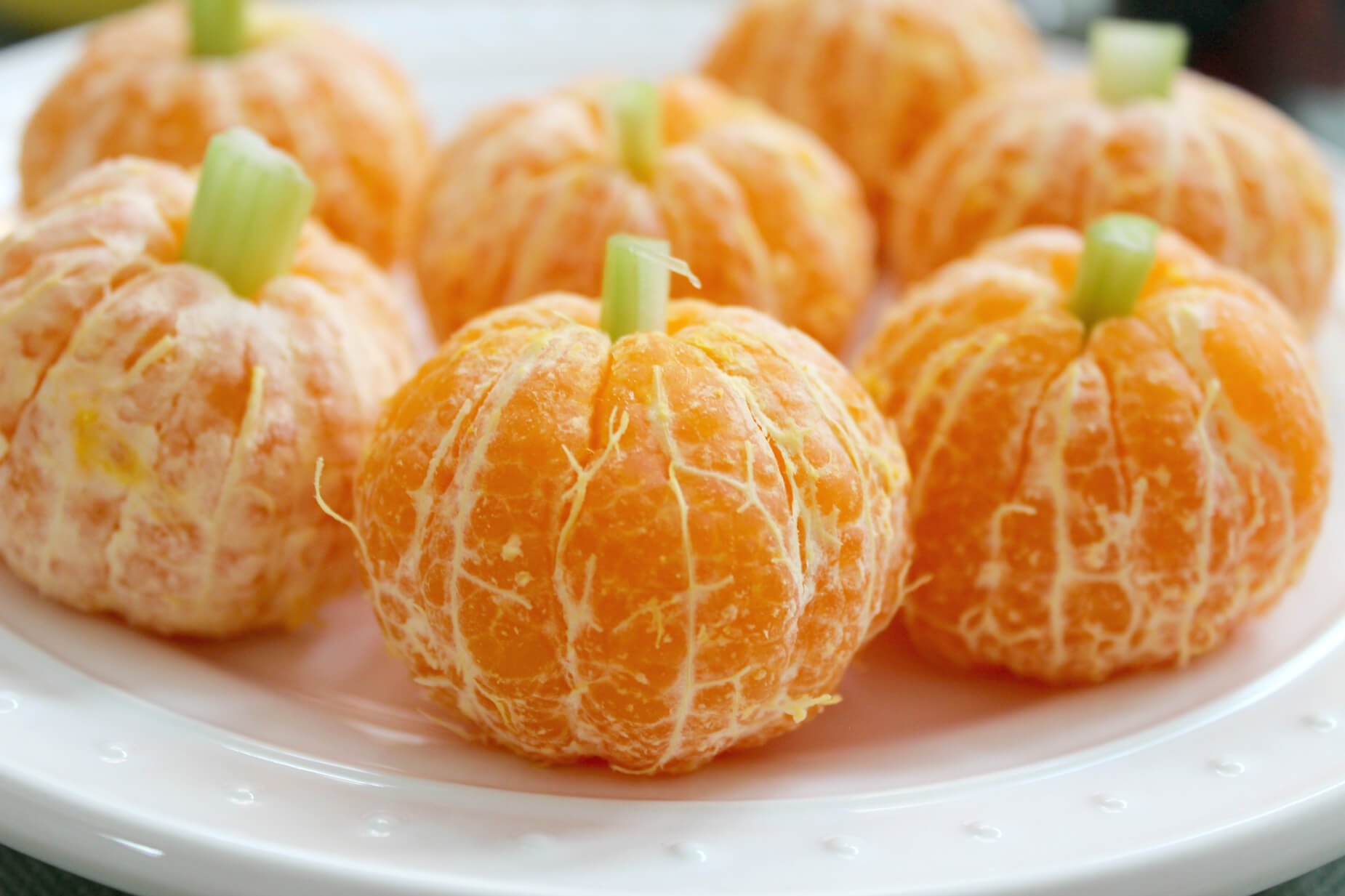 Healthy, fun and perfectly on theme…These are a kid-friendly favorite at every Halloween party. All you need are clementines and celery sticks.  You can use green bell peppers too, if you'd prefer.  Peel the clementines and place the end of a celery stem on top like a pumpkin stalk.
Hummus Bell Pepper Jack-O-Lanterns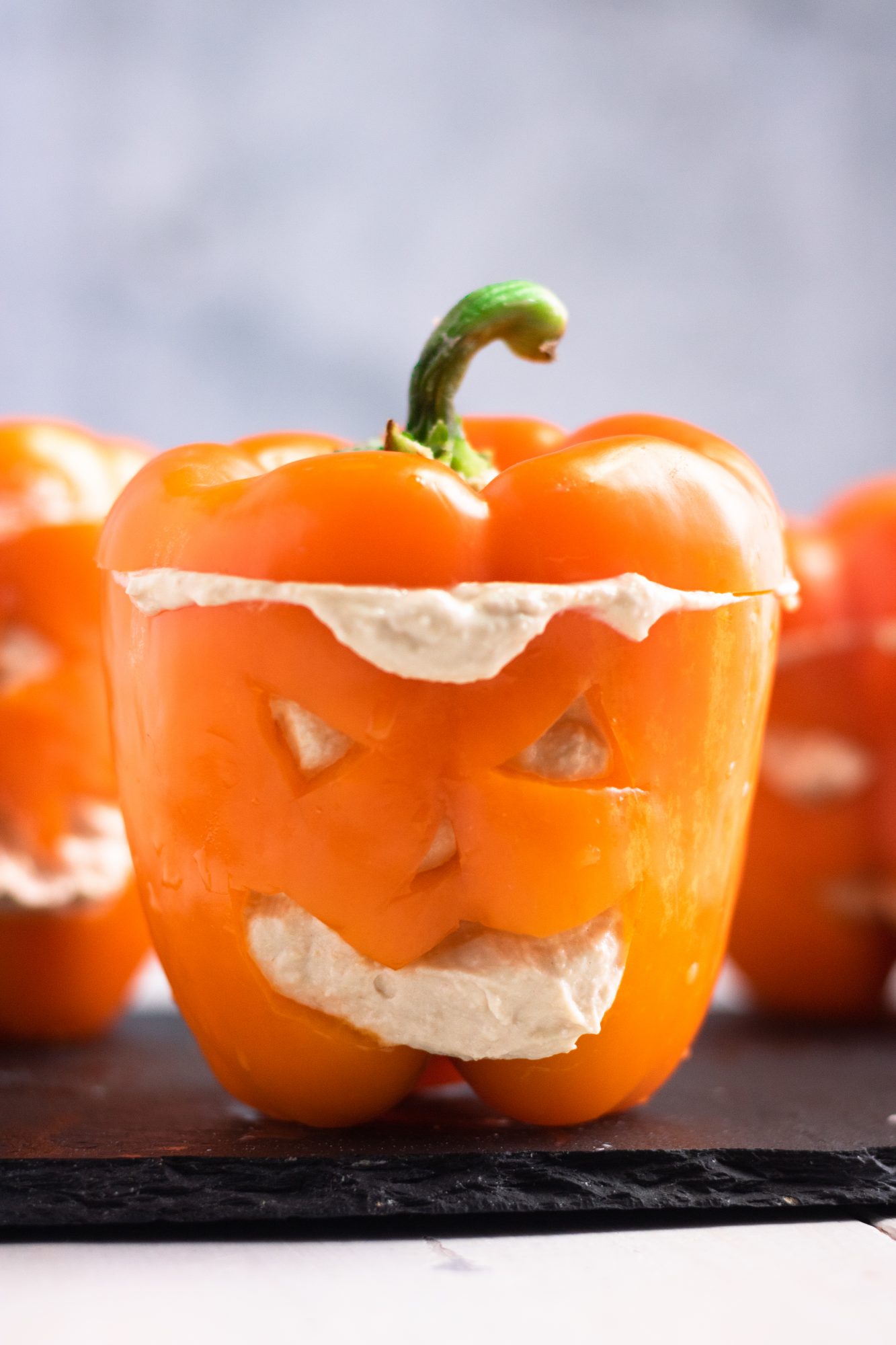 These ghoulish creations look awesome on a Halloween party food table. Simply slice the top off and carve a scary face into a bell pepper (orange looks best) and fill with hummus until it starts to….ooze out!
Boo-Nanas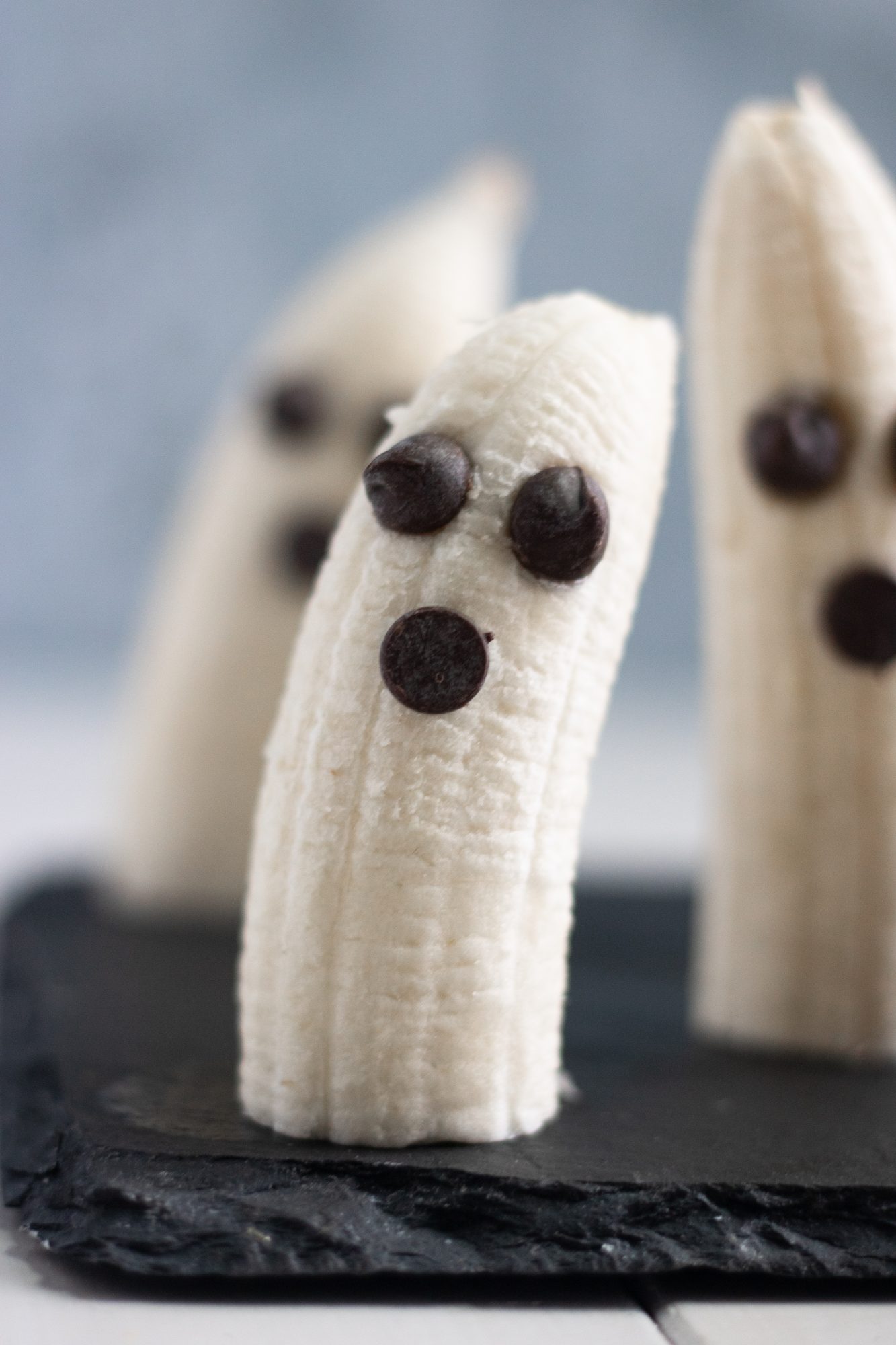 Another low-effort, high-impact idea is a tray of Boo-nanas!  Simply cut a peeled banana in half, stand it on the flat end and add raisins or choc-chips to create a ghostly face. Simple.
Keep Reading: Ten Fun Facts About Halloween
About Michigan Mortgage Lender, Julie Krumholz
Julie Krumholz is has been helping homebuyers in Oakland County and throughout Michigan for over 30 years. On a personal level, you will find her to be friendly, straightforward, honest and extremely dedicated to helping her clients.
f you are looking for a Mortgage expert in Michigan that you can rely on call: 586-382-5482