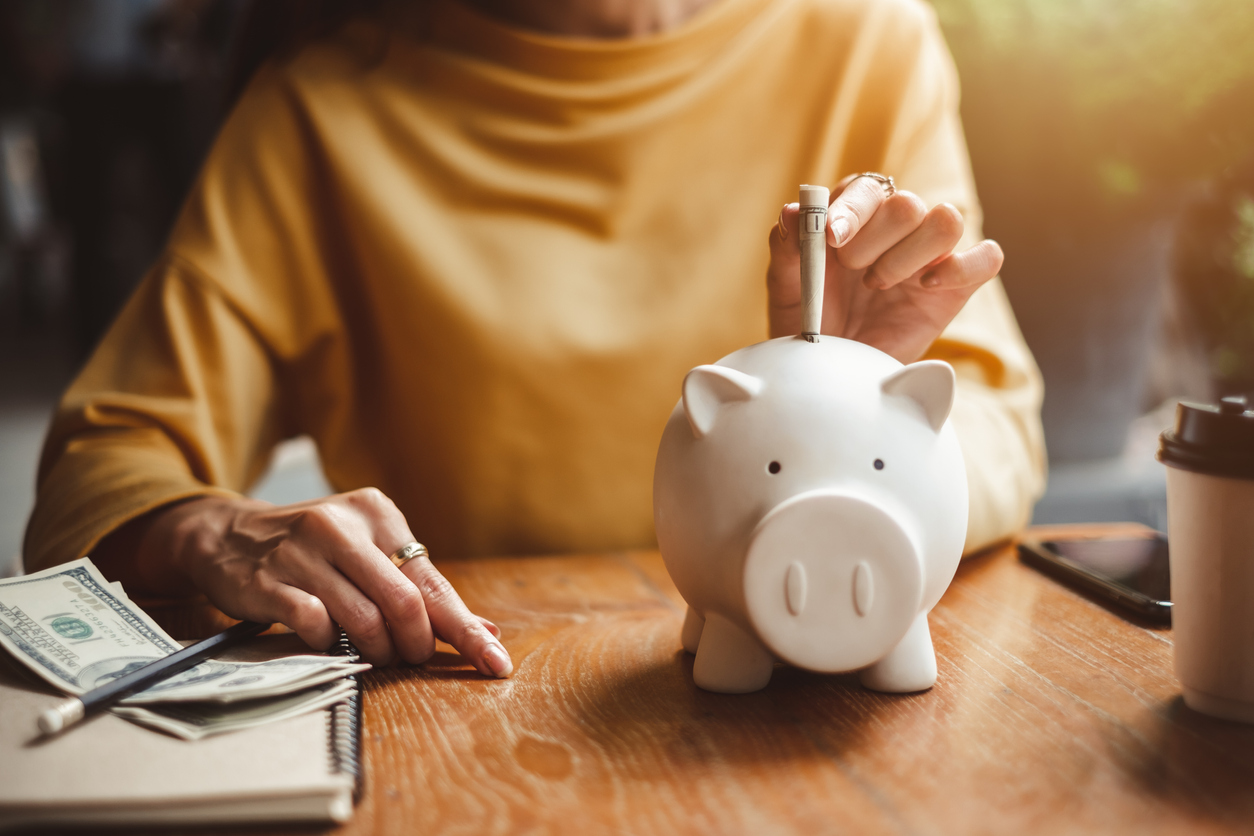 Many Americans find themselves asking, "why is it so hard to save money?"
It seems like something always comes up that prevents you from contributing to your savings account. Chid expenses, medical bills and unexpected car or home repairs can make it challenging to set aside money for emergencies, retirement or a new home.
Ultimately there two approaches to saving money: increasing income or decreasing spending.
But did you know there is a science-based study that shows you can also get closer to your savings goal by changing your mindset?
Here are 6 ways you can get your brain into the savings mindset.
Give Your Bank Account a Nickname. Naming your savings account can create an emotional attachment to your savings goal on a subconscious level, ultimately motivating you to contribute more. Why not call your vacation savings, "Fun in the Sun" or include a date such as "Italy 2020".
Small Changes Go a Long Way.  Saving a large sum of money can seem daunting. But making small changes can actually add up quickly, just as spending small amounts regularly can add to debt before you know it.
Are you stopping at a coffee shop every morning for a $5.00 latte? Why not take that small amount each day and put it in savings? Or make a new habit of picking pizza instead of having it delivered.
Visualize Your Savings Goal. Vision boards can graphically illustrate your goals and increase your chances of reaching them.
Create a vision board to include photos of your savings goals such as a new home, new car, or tropical getaway. Or tape a picture of one of your goals to your wallet or credit card where you will be reminded before spending.
Find a Savings Buddy. Studies have shown that committing your goals to someone significantly increases your chance of completing them. Partnering with a friend who has a similar savings goal as yours allows you to collaborate on ideas and stay accountable.
Automate Your Savings. If your company pays you via direct-deposit, ask that a portion  of the money be put into your savings account before it even hits your checking. This doesn't need to even be a large sum of money. Start with small amounts and you won't even notice it missing from your paycheck.
Saving for Retirement. Take advantage of your company's retirement program. Even if you change jobs, the money can be transferred to another retirement fund.
Read More Money Saving Tips:
Macomb County Lender Shares Money Saving Tips for Your Down Payment
Trying to Save Money for a Down Payment?
There is still a common myth out there that in order to save for a house, you have to drain your savings account.
The truth is that there are several loan programs available that will require only a small down payment or 100% financing. A MSHDA loan will provide up to $7500.00 in down payment assistance, and VA and USDA loans require no down payment.
Contact Julie Krumholz in Rochester, MI
After working hard to earn your money and save it, why not keep more in your pocket?
Contact Julie Krumholz from Superior National Bank to learn which loan product is best for your meeting your financial goals. Julie has over 30 years in the mortgage industry and brings a wealth of knowledge to her clients. Her office is located in Rochester but she can service anyone in the state of Michigan. Call Julie today at: 586-382-5482.