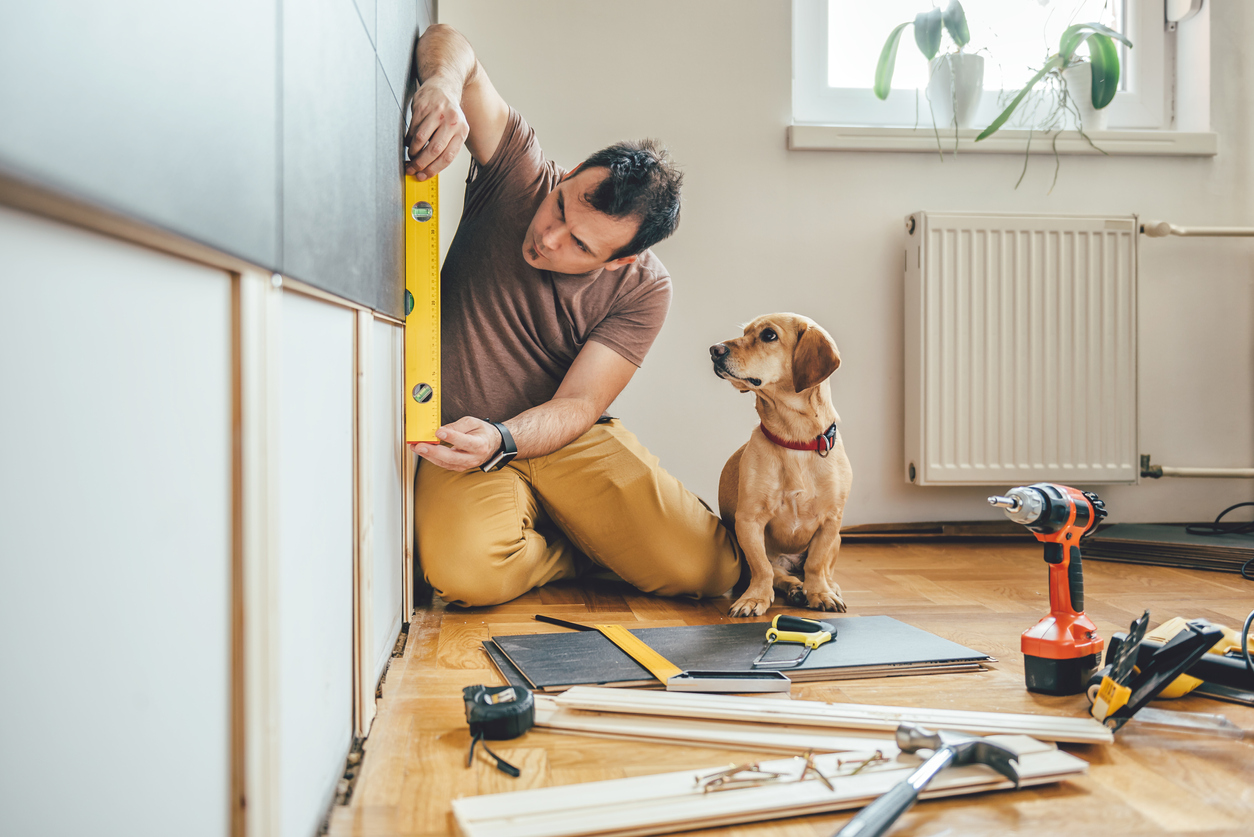 Chances are you have watched the HDTV channel at some point.  Investors and ambitious do it yourselfers buy a home that needs a little work, then completely renovate the property to turn a massive profit.
But is remodeling as easy as it seems on TV? And what are the benefits of buying a fixer upper? Is it worth the costs?
In this article we dive in to the benefits of buying a home that needs an upgrade as well as what you should consider before committing to a fixer upper.
Benefits of Buying a Fixer Upper
Customization
Renovating or remodeling a home is a lot of work, but customizing your home to your taste is definitely the fun part.
A move in ready or turn-key home may have an up-to-date interior that doesn't require any remodeling, but you still didn't create it. Whereas a fixer upper allows you to pick out new appliances, paint colors, cabinets and countertops that express your personality.
Built in Equity
Equity is the amount of your home that you actually own after accounting for debt. To calculate that value, subtract your loan balance from the market value of your home.
When you buy a home that needs work, you have a chance to have built in equity. For example, if you buy a home for $250,000 and increase the property value to $325,000 with renovations, you are immediately building equity.
More Opportunities in a Tight Housing Market
Less than perfect homes will have less competition from other buyers. This is especially helpful in the current housing market, where most listings have multiple offers and don't stay on the market long.
Is a Fixer Upper Right for You?
Buying a home that needs a little TLC has its benefits, but you will need to prepare and do your homework to make sure your fixer upper is a success. Here are some some things you may want to consider, so you don't get in over your head with your time and budget.
Assess the Renovation Costs
Not all fixer-uppers require equal fixing, and there are certain repairs you might not even detect without consulting with a professional.
You may want to pass on homes with structural damage, foundational issues or problems with septic tanks. These repairs can quickly turn your fixer upper into a "money pit".  So before you commit to a property, hire an inspector to evaluate all repairs and determine whether or not the property is a sound investment.
How Handy are You with Construction?
If you are a contractor with construction knowledge, this can save you a lot of money in remodeling costs. In fact, many buyers that are in the trades prefer a fixer upper so they can use their experience to their advantage.
Whether you are a weekend warrior or have an extensive background in construction, chances are you may not be able to handle every aspect of the renovation. For example, a remodeling contractor may be handy with kitchen and bathroom renovations, but what about plumbing or electrical projects? What if you start tearing down walls, only to open up a can of worms that you weren't expecting? A licensed contractor that does construction for a living may be better suited for these tasks.
The bottom line is to plan how you will complete the work and be prepared to hire and oversee various contractors throughout the renovation.
Do You Have the Time to Dedicate to Remodeling Projects?
Before you invest in a fixer upper, it is important to be realistic with your timeline.
First, how soon do you need to move into the house? Are you in a lease that is ending soon which requires a move in ready home in 6 months?
Depending on the amount of work that needs to be done, renovations could take a year or longer, even if you hire contractors to do all of the work for you.
If you plan on doing some of the work, you will save money on labor, but the project will likely take longer.  So before you  commit to this project, carefully consider your career demands, family life and social life. Are you prepared to dedicate most of your free time to your fixer upper?
Every situation will vary depending on your lifestyle and current living situation. The key is to realistically assess the amount of time it will take for your home to be move in ready.
How to Finance a Fixer Upper
Whether your are tackling remodeling projects on your own or hiring professionals for your renovation,  it is important to set a budget before you commit to buying a fixer upper.
Get quotes on labor costs and building materials and leave a little wiggle room for unexpected expenses that may arise during the project.
Once you have established your budget, it's time to determine how you will fund your fixer upper. The good news is, even if you don't have the funds to finance the project on your own, there are renovation loans or fixer upper loans available.
An FHA 203k loan or conventional renovation loan, allows you to finance not only the home itself, but also needed repairs.
A 203k is a sub-type of the popular FHA loan so in order to qualify, you will need to meet the requirements of an FHA loan such as a 580 credit score and maximum debt to income ratio of 31/43.
Learn More about FHA Loans
Frequently Asked Questions About Michigan FHA Loans
Contact an FHA Lender in MI for More Information on Renovation Loans
Not every mortgage lender offers renovation loans, so be sure to consult with an experienced lender that understands these types of  products.
With 35 years of industry experience, Julie Krumholz has worked in nearly all aspects of mortgage banking. If you are looking for an FHA lender in MI that can assist you with FHA 203K loans as well as other types of conventional renovation loans, call Julie today at: 586-382-5482.