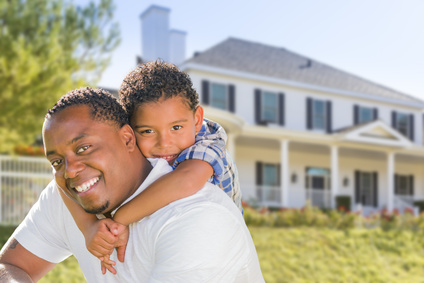 If you are ready to buy your first (or second) home, but have struggled with credit in the past, it is possible you qualify for a mortgage backed by the Federal Housing Administration (FHA). The FHA has been aiding Americans since 1934 and currently backs almost five million mortgages. If you have questions about Michigan FHA loans and whether you qualify, read our answers to the FHA frequently asked questions below.
Who is a good candidate for a Michigan FHA loan?
The FHA primarily assists people who suffer from low credit scores. This includes people who have damaged their credit, and also those who have not had enough time to establish solid credit.
How does the FHA help with my mortgage?
The FHA will insure your mortgage, which gives banks and private lenders assurance when providing a loan for someone who otherwise would not qualify. FHA loans also require more affordable down payments compared to traditional mortgages.
What is the down payment required for an FHA Mortgage?
Down payments vary, but with an FHA mortgage they can go as low as 3.5 percent.
Do I apply directly to the FHA?
No, the FHA is not supplying the mortgage, they are backing it. They work with a long list of FHA-approved lenders.
Do I need mortgage AND homeowners insurance?
Yes. Homeowners insurance protects your house and belongings while mortgage insurance protects the buyer from defaulting on the loan. Without mortgage insurance, lenders would have low confidence in providing loans to those with poor credit history.
I've filed bankruptcy before, can I still qualify?
As long as you have shown responsibility and improvement since your bankruptcy, it will not disqualify you from receiving an FHA loan. Usually you will be eligible for a loan two years after your bankruptcy has been discharged.
Do my student loans affect my ability to qualify?
The payment qualification does vary depending on what type of repayment plan you currently have. The best thing you can do is stay up to date on your payments and consult with a Michigan FHA lender. Other than that, your debt will be compared with your income to determine your Debt to Income Ratio (DTI) and capability of affording the proposed mortgage.
How much can I borrow using an FHA loan?
The FHA recently announced that the new FHA single family loan limit for Michigan will be $294,515. That brings the purchase price with the minimum down payment to $305,197.
Related Article: New FHA Loan Limits Might Make 2018 the Best Time to Apply
Will this affect my ability to refinance?
No, in fact more options become available through FHA loans. They offer "Streamline Refinancing" which greatly reduces the amount of paperwork involved in a typical refinancing. As long as your monthly payments are up to date, you may refinance if it would reduce monthly payments or adjust your interest rate.
Ready to Consult with a Michigan FHA Loan Specialist?
If you have any more questions about Michigan FHA loans or if you are ready to apply, contact Julie Krumholz from Superior National Bank.
Julie has over 30 years in the mortgage industry and specializes in FHA loans and other down payment assistance loan programs.
Call Julie Krumholz Today! 586-382-5482
Related Article: Michigan FHA Loans: Loan Limits, Eligibility and Other Common Questions