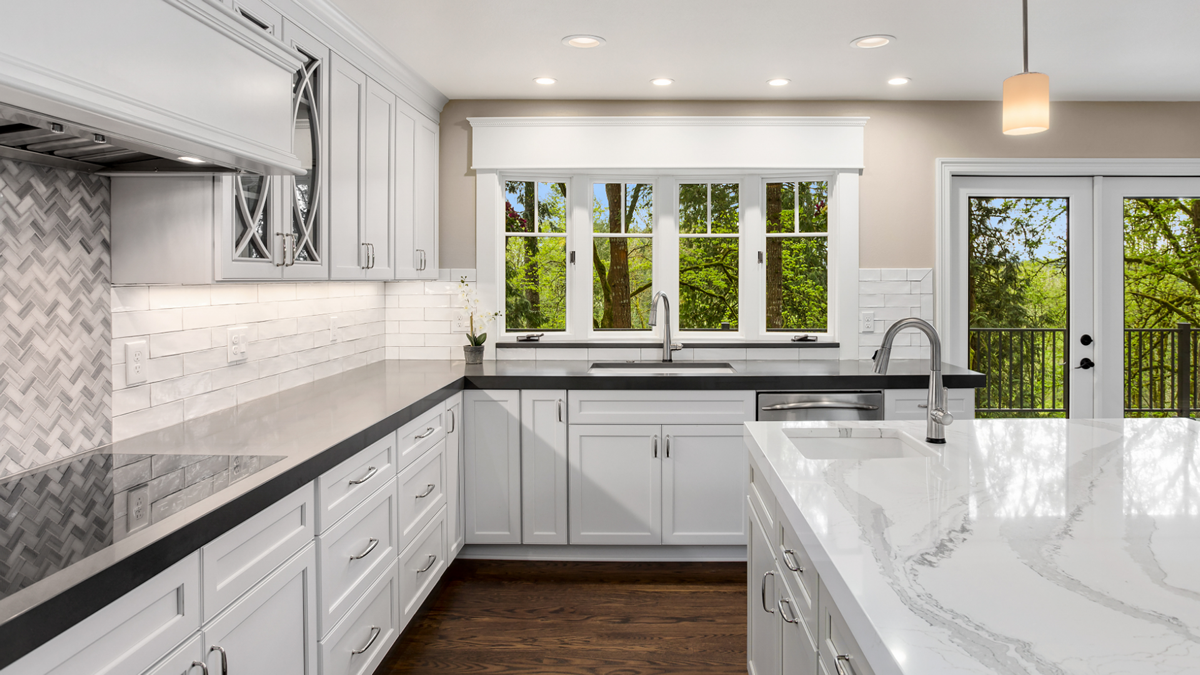 Whether you're thinking of selling your home or just want to enhance your living space, there are plenty of ways to increase the value of your home without investing in a time intensive remodeling project. Some of these home improvements require some of your time and plain old elbow grease. Some require you spend a little bit of money. However, each update below should take less than a day to complete.
1. Swap out Cabinet Hardware
Simply changing the hardware is an easy and inexpensive update without installing new cabinets.
2. Re-stain or Paint the Cabinetry in your Kitchen
Try painting the upper cabinetry a lighter color and the lower cabinets a darker color.
3. Upgrade your Landscaping
Add some curb appeal by simply planting flowers and trimming plants. Or consult with a landscaping company to give your home a fresh new look.
4. Install Outdoor Lighting
Outdoor lighting can highlight your beautiful landscaping while providing security and safety.
5. Build a Patio or Deck
This project may take longer than one day but quickly adds outdoor seating and boosts exterior appeal.
6. Repaint Your Walls
Simply paint an accent wall or update the color of an entire room.
7. Install New Faucets
Need a kitchen or bathroom upgrade without doing a full remodel? Upgrading your faucets will give sinks a modern look.
8. Install Smart Home Features
This will not only make your home more attractive but will increase functionality and security.
9. Swap Out Light Fixtures
Investing in a chandelier or pendant lighting can significantly change the atmosphere of your home.
10. Paint Your Front Door
Make a statement and welcome guests with a bright new color.
11. Replace Your Garage Door
Your dated garage door may be dragging down your curb appeal. Replacing it is a quick way to give your exterior a facelift.
12. Install Floating Shelves
This is a fun way to add some character to an empty wall.
13. Create a Gallery Wall
Another way to fill a blank wall is to create a collage of photos. This could be 2 or 3 pieces or artwork or several photos of different sizes. Have fun with it and get creative.
14. Install a Chair Rail or Crown Molding
Molding takes little time to install but can dramatically update any room.
15. Power Wash the Exterior
A little bit of maintenance can remove years of dirt and grime from your exterior, giving your home a facelift.
Moving? Here's How To Get Rid Of Your Excess Stuff
About Michigan FHA Lender, Julie Krumholz
Julie Krumholz, is an FHA lender at Superior National Bank in Rochester, Michigan. With over 35 years in the mortgage industry, Julie's goal is to provide the best possible mortgage experience and the most competitive rates. Julie has vast experience in FHA loans, VA Loans, USDA loans, portfolio loans, MSHDA loans and more.
Contact Julie today at: 586-382-5482